Chiropractic Care for Neck Pain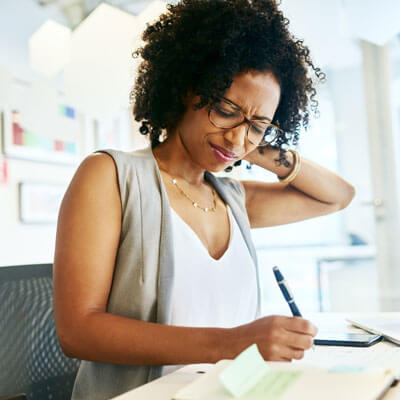 At Hildebrand Chiropractic, we care deeply about your neck health. Most neck pain is pinpointed in the spine and the muscles surrounding the neck. With chiropractic care these issues can be addressed directly to realign your spine and relieve your neck pain.
What can Chiropractic treatments do for my neck pain?
Chiropractic addresses problems in the cervical spine and reduces the muscular tension, allowing the body to recover proper functionality and help to solve the disorders affecting the neck. It's important to bear in mind that chiropractic therapy can progressively intervene on the spinal deviations responsible for the neck pain, while improving your posture and overall spinal health at the same time.
With the help of chiropractic adjustments, you can tackle the following issues:
Cervical Joint Dysfunction
Acute Neck Pain
Chronic Neck Pain
Pinched Nerves
Cervical Disc Bulges
Cervical Disc Herniation
Degenerative Disc Disease
Neck Muscle Strains
Cervical Joint Sprains
Neck Joint & Tissue Inflammation
Neck Muscle Spasms
Poor Neck Posture
Thoracic Outlet Syndrome
Torticollis
Severe Neck Stiffness
Neck Pain Associated with Headaches and Jaw Tightness
Numbness/Tingling in Arms or Hands (related to neck)
Where does neck pain come from?
Neck pain can result from a blow, accident, or the strain of a muscle from exerting great efforts by lifting heavy objects or playing sports. The cervical spine, which comprises the neck, is the most frail area of the spine and its task is to support the skull and its contents while sustaining and allowing free movement of the head up to a certain point.
Unlike other muscles in our bodies, even when we are at full rest, our neck muscles, along with the shoulders and upper back, are always tense, holding the weight. The muscle group pertaining to our neck is of utmost importance that might also be damaged over time by repetitive strain or by poor posture. In addition to this, the issues associated with neck pain may derive from disorders such as shoulder pain, tingling in shoulders and arms, and problems along the spine.
Are Chiropractic treatments safe when the person is in pain?
Chiropractic care is well regarded as one of the best natural treatments for the body, because of its non-invasiveness and sustainable relief. An increasing percentage of people seek help from chiropractors as both a preventative measure and corrective therapy. The treatment, although it may seem crude from a third person perspective, is actually painless, and leaves the patient with a sensation of relief and restoration.
Chiropractic treatments greatly reduce the need for prescription painkillers and muscle relaxers that people would otherwise rely on, and that might have several concerning side effects.
CONTACT US »

Neck Pain Treatment State College PA | (814) 238-8540