Chiropractic Care for Foot Pain
Why choose Chiropractic care for Foot Pain?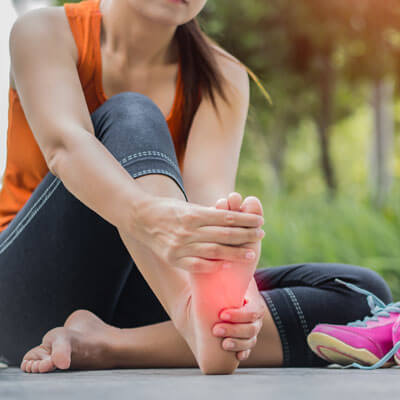 Chiropractic Care is a natural and effective solution to prevent, relieve and control pain without the use of addictive painkillers and pharmaceutical drugs that lead to side effects. Chiropractic Adjustments for Foot Pain also address the root of the cause leading to sustainable long term results.
Causes of Foot Pain
Foot pain focuses on two areas:
Toes (metatarsus)
Heel
Foot pain can be caused by specific situations such as walking for long periods, wearing uncomfortable shoes, running, or standing for a long time. Similarly, some of these circumstances can also cause sprains or strains.
Ailments we treat and prevent specific to Foot Pain include the following:
Plantar Fasciitis
What it is:
Plantar Fasciitis is a disease produced by the inflammation of the fibrous tissue that surrounds the intrinsic muscles of the foot, causing pain in the heel area.
How we help:
Rest and Chiropractic Care for this disease consists of a technique based on adjusting the feet and ankles to relieve stress and pain on the affected area.
Heel Spur Syndrome
What it is:
The calcaneal spur is a bone growth that appears in the lower part of the heel bone (calcaneus) as a consequence of excessive traction of the fascia. It occurs many times when plantar fasciitis occurs.
How we help:
The best treatment to solve the problem is performing exercises to correct the posture and footfall. That way, the pain will gradually decrease. Anti-inflammatories are another solution, but they often mask the issue and don't completely solve the problem.
Metatarsalgia
What it is:
Metatarsalgia is a symptom that causes severe pain in the forefoot and is caused by repetitive overload in that area. Therefore, the tissue tends to be injured.
How we help:
One of the ways to treat this symptom is by evaluating the foot to determine the appropriate treatment. We advise losing weight, changing footwear, using custom insoles to avoid pressure and more. Besides, it is essential to perform physical therapy exercises to relieve pain.
Muscle Sprains
What it is:
A sprain usually occurs due to overstretching or tearing of a ligament or band of fibrous tissue. The most common is an ankle sprain. The symptoms of these injuries are swelling, inability to move the joint, bruising and above all, pain. (Click here to view our service page specific to Sprains & Strains.)
How we help:
Treatments include a method of protecting the affected area from further injury, avoiding physical activity, applying ice and compression, and elevating the affected area. That will help decrease swelling and speed up the recovery process.
Ligament Strains
What it is:
This injury is caused by a muscle tear or excessive stretching. Ligament Strains can cause swelling, cramps, or muscle spasms. (Click here to view our service page specific to Sprains & Strains.)
How we help:
Chiropractic treatments are similar to those used to treat sprains. It is vital to protect the affected area from other injuries through the use of splints or crutches. Restriction of physical activities is also crucial. Subsequently, it is necessary to apply ice and compression and perform limb lifts.
Achilles Tendinopathy
What it is:
This pain is caused by repetitive movements over the Achilles tendon area that produce intense tension. Pain, stiffness and tenderness are some of the most common symptoms.
How we help:
Chiropractic Care for Achilles Tendinopathy consists of active release therapy to break down scar tissue and improve soft tissue problems. The chiropractic adjustment is another effective solution.
Heel Pain
What it is:
Heel pain is mostly caused by plantar fasciitis. It consists of an inflammation produced by a tear when running or applying repetitive tension on the heel. This condition can also occur due to other difficulties, including rheumatic diseases, neuropathies, or spinal problems.
How we help:
Treatments consist of exercises to regain proper tension and correct joint problems in the foot to reduce tissue inflammation.
Foot Arch Collapse
What it is:
It occurs mostly due to injury or excessive pressure on the area, causing rupture or inflammation of the tendon. When that happens, the arch collapses causing flat feet.
How we help:
We recommend resting and applying ice to the affected area. Also, chiropractic adjustments are important as they help align the ankle, foot, and leg joints.
Morton's Neuroma
What it is:
It is a condition produced by the thickening of nervous tissues in the forefoot area. That can be caused by repeated pressure on the nerves of the toes or by irritations.
How we help:
Our recommendation for this condition is rest. Proper use of shoes to reduce unnecessary pressure is also another point to consider as well as diet to avoid foot injuries.
Tarsal tunnel
What it is:
Tarsal tunnel syndrome is a disease that causes pain in the foot, ankle, and toes due to compression of the tibial nerve. It can be a consequence of inflammation, sprain or flat arches.
How we help:
Chiropractic adjustment of the foot bones, especially the calcaneus, is one of the most effective treatments. Due to the severity of the situation, we will sometimes apply manual techniques to different areas to restore neurological function.
CONTACT US »


Foot Pain Treatment State College PA | (814) 238-8540