Chiropractic Care for Knee Pain
Knee pain affects a considerable proportion of the American population each year, and many factors can cause it. It can be a consequence of many seemingly healthy hobbies or lifestyle choices.
Just as knee pain can be treated, it can also be prevented in many cases. Americans today are becoming more mindful of the ailments that may affect them further on in their lives, and knee pain is something that, with a little care now, can be avoided in the future.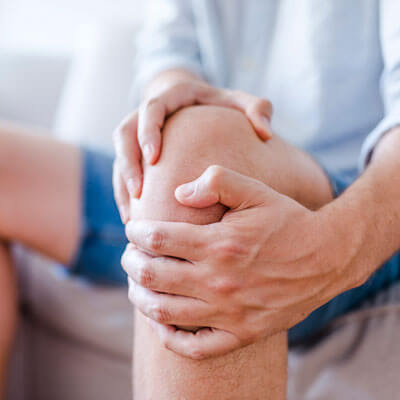 With years of experience treating knee pain and a Doctorate from the National College of Chiropractic, Russ is trained to deal with any type of knee pain you may experience.
Ailments that Contribute to Knee Pain
Runners Knee
Bursitis
Osgood-Schlatter Disease
Medial & Lateral Meniscus Tears
Patellar Tracking Disorder
Patellar Tendonitis
Plica Syndrome
Chiropractic Care to Treat Knee Pain
Knee pain can be a devastating injury to have and may provide severe discomfort to those who are going through it but not to worry. Doctor Russ has years of experience dealing with all types of knee injuries listed above, and even some that are not listed.
As knee injuries are commonplace, there are many treatment options available out there, and our Chiropractic Clinic provides treatments that have been proven to offer the best natural healing with long term results.
Although a Chiropractor can help treat any injury that may be causing your knee pain, sometimes it is just as essential to visit a chiropractor to help prevent getting knee pain.
Chiropractic Care to Prevent Knee Pain
Although Knee pain is widely treatable using a vast range of chiropractic methods, it is vital to some that knee pain is avoided altogether. Many of our patients who have shown early symptoms that could potentially lead to knee problems at a later stage of their life have opted to start preventative measures to try and keep themselves from becoming affected.
However important this may be to those who are expecting to have difficulties, later on, it is also a wide choice of action even for those who do not show symptoms.
As we mentioned earlier, knee pain can affect people of all ages and is a common complaint that we see. Taking measures to protect yourself from future illness is always the right choice.
CONTACT US »

Knee Pain Relief State College PA | (814) 238-8540